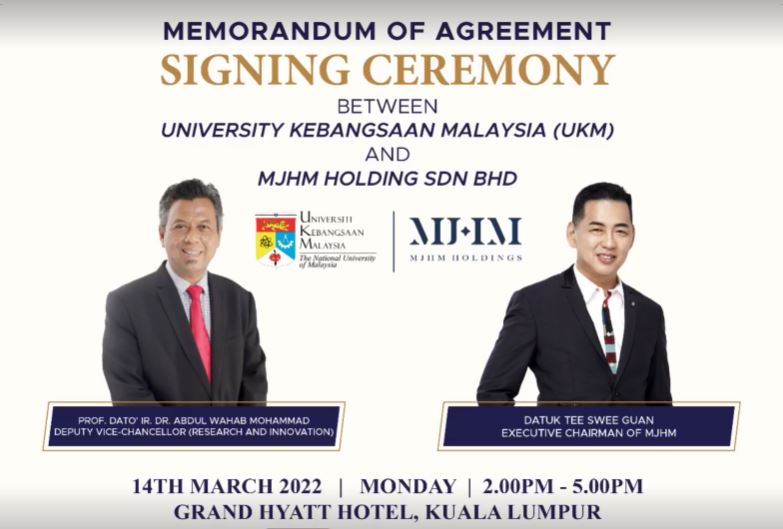 Kuala Lumpur - MJHM Holdings has forged a strategic smart partnership through a memorandum of agreement with Universiti Kebangsaan Malaysia (UKM) to develop services based on regenerative medicine "Wellness & Healthy aging" and joint research.

By 2030, based on the projections of the Department of Statistics Malaysia, the country is expected to achieve the status of an aging nation by 2030 when 15 percent of its population is aged 60 and above. Reports in 2020, showed that the population aged 60 and above has increased from 3.4 million (2019) to 3.5 million representing 10.7 per cent of the total population. The golden age group in Malaysia will follow global trends and developed countries such as Japan and Europe where life expectancy will be longer and as a result, geriatric discipline -specific health problems will become more significant especially in terms of mental and physical health.
Currently, UKM has achieved success through the most comprehensive university health and medical system in Malaysia and successfully provides international standard services through regional referral centers namely Chancellor Tuanku Muhriz Hospital (HCTM), Tuanku Ampuan Besar Hospital Tuanku Aishah Rohani Children's Specialist Hospital UKM (HTABTAR HPKK) and UKM Specialist Center as well as the UKM Health Polyclinic network.
The collaboration that will be carried out with Universiti Kebangsaan Malaysia is symbiosis, where MJHM will share experiences and databases collected electronically over 30 years to produce research studies that can be applied to the thrust of services at UKM Medical Center. Through the plan to establish UKM Health Technopolis, MJHM is ready to develop a one-stop center for health screening and wellness as an important component in the health aspect that will complement the spectrum of health and medical services offered by UKM, namely detection, prevention, a healthy active lifestyle as well as regenerative medicine.
As a corporate company registered in Malaysia, MHJM aims to be a comprehensive and dynamic health institution in line with the passage of time and technology. Through the 3 existing branches of MJHM's health services, namely MJ Health Screening, REV Physiotherapy and Rehabilitation Center and ECOHEAL Air Purifier, it is hoped that the potential of each entity will be further enhanced with the involvement of researchers and medical experts from Universiti Kebangsaan Malaysia.
Recently, HCTM and UKM researchers led by lead researcher Dato 'Dr Badrul Akmal Hisham Md. Yusoff from the Department of Orthopedics & Traumatology, Faculty of Medicine UKM and Associate Prof. Dr. Mohd. Shahrul Mohd. Researchers from the Department of Earth and Environmental Sciences, Faculty of Science and Technology as well as research partners from various faculties and departments, in collaboration with MJHM have successfully obtained a Fundamental Research Grant from the Faculty of Medicine to conduct a study on the use of "air purifiers" using Photo-hydro-ionization technology namely Ecoheal (FF- 2021-398: Investigation of the effectiveness of air purifier using Photo-hydro-ionization Technology (PHIT) ECOHEAL in a hospital COVID19 ward) in wards housing COVID19 HCTM patients.

In this study, the ECOHEAL air purifier was selected based on several features that provide advantages over commonly used air filtration equipment to consider whether applications in use in enclosed and high-risk facilities can produce safer indoor ventilation quality and subsequently may be able to reduces the risk of spread of airborne COVID19 virus. The results of the observations showed that ECOHEAL is able to improve indoor air quality and can reduce the viability of COVID 19 virus through the process of destruction of Covid19 virus RNA with the interaction of superoxide elements resulting from ECOHEAL.
MJHM Holdings has appointed Datuk Wira Lee Chong Wei as ECOHEAL Brand Ambassador, together fighting epidemics and air pollution, and protecting the respiratory health of future generations. MJHM donates ECOHEAL to UKM, working together to benefit all walks of life.
Mar

14,

2022

Category:

NEWS
Comments: 0