24K GOLD SUPER LIFT ANTI-WRINKLE GLOBAL CREAM
Brand:
Herla Laboratory
Product Code:
GS-GC
MAL/NOT No:
NOT170303553K
Availability:
Pre-Order
RM888.00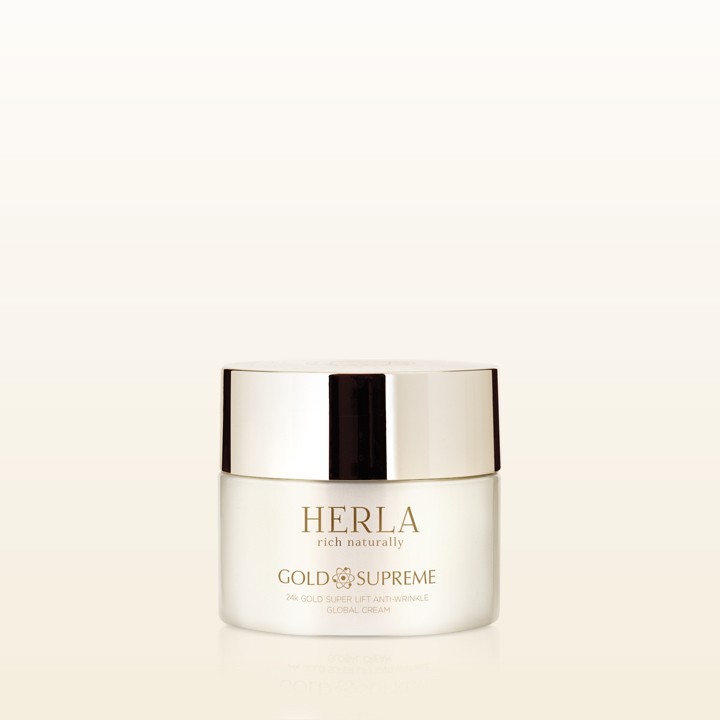 Intensively Lifting anti-wrinkle cream, enriched with of 24-karat gold flecks with a strong antibacterial and soothing properties stimulates the synthesis of collagen and reduces skin blemishes.

PRODUCT DESCRIPTION
Intensive lifting anti-wrinkle cream enriched with 24-carat gold micro particles has strong antibacterial and anti-inflammatory properties. The formula stimulates collagen synthesis, reduces discoloration, and restores and evens irregular skin tone. Vitasource™ – an active substance obtained from Scutellaria baicalensis (Baikal skullcap) delays senescence of fibroblasts, rejuvenating skin cells even by 10 years, and improving skin's firmness, elasticity and smoothness. A synthetic neuropeptide smooths the skin and prevents the formation of expression lines by impeding neuromuscular spasms. The cream is a safe and effective alternative to invasive procedures of aesthetic medicine. The cream formula was complemented with marula oil and 100% natural OMEGA INCA butter – known as the gold of the Incas.
directions
• Increases skin firmness and elasticity.
• The 24k gold particles have antibacterial properties.
• Active molecule VITASOURCE ™ affects telomeres of fibroblasts increasing the microsculpture of the skin and effectively rejuvenating skin cells by up to 10 years.
• The neuropeptide prevents the formation of mimic wrinkles.
DIRECTIONS for use
Directions for use (50 ml): Apply a small amount of cream on the cleansed skin of face, neck, and neckline. Complement the treatment with 24k Gold Superior Anti-Wrinkle Eye Repair Gel from Gold Supreme series.