24K GOLD SUPERIOR ANTI-WRINKLE EYE REPAIR GEL
Brand:
Herla Laboratory
Product Code:
GS-EG
MAL/NOT No:
NOT170303557K
Availability:
Pre-Order
RM588.00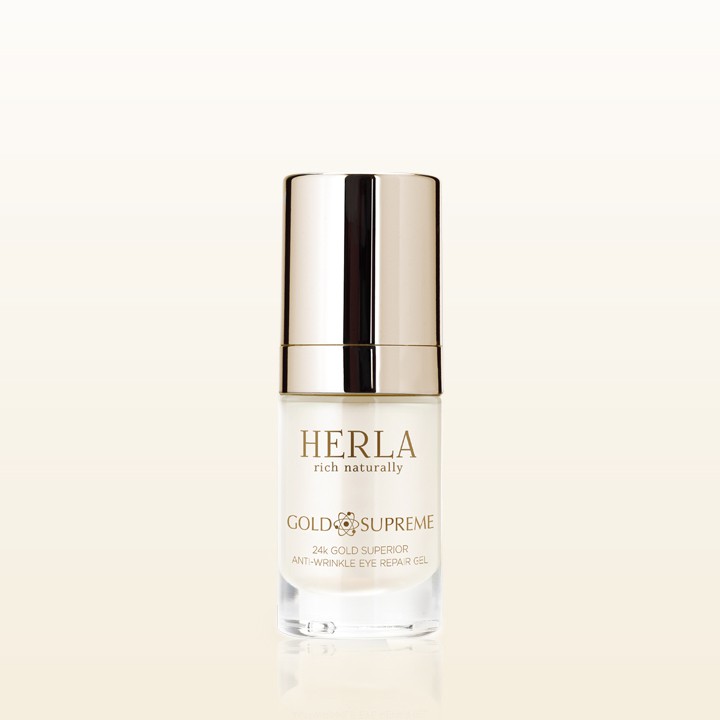 Anti-wrinkle and nourishing 24k gold eye repair gel has decongestant, draining and stimulating blood flow properties.
product description
Gel for the eye area has an intensive anti-wrinkle and nourishing action. The innovative plant complex contained in the formula, rich in rutin and hesperidin, stimulates microcirculation of blood, and effectively reduces puffiness and shadows under the eyes, so the skin becomes firmer, brighter and properly hydrated. Hyaluronic acid has strong hygroscopic properties, a favorable effect on skin moisturization, an anti-inflammatory and stabilizing effect on the structure of tissues, and it improves the elasticity of collagen and elastin fibers. An innovative neuropeptide tightens the skin and prevents the formation of fine lines, so called 'crow's feet', around the eyes, by impeding neuromuscular contractions. An antioxidant plant complex fights the signs of fatigue, giving a fresh, radiant and youthful appearance.
Directions
• Hydration, nutrition and rejuvenation of the delicate area around the eyes and eyelids.
• Reduction of small wrinkles, swelling and shadows under the eyes.
• Prevention of "crow's feet".
• Pleasant cooling sensation.
DIRECTIONS for use
Directions for use (15 ml): Apply on a daily basis in the morning and in the night on the cleansed skin around the eyes as the final step of your skincare routine. The product gives a pleasant sensation of cooling that helps reduce swelling around the eyes.