Variable weather conditions have forced me to change my skincare plan to a more nourishing one, not only in body care, but also in the daily moisturizing and nutrition of the face. Temperatures outside the window, wind and rain do not affect my dry skin, causing it to dry out, and in some situations, roughness. In search of the perfect face oil, after which I will not shine, and he himself quickly absorbed, I came across an interesting position of the brand Herla, namely rejuvenating dry face oil, which enriched my daily care routine.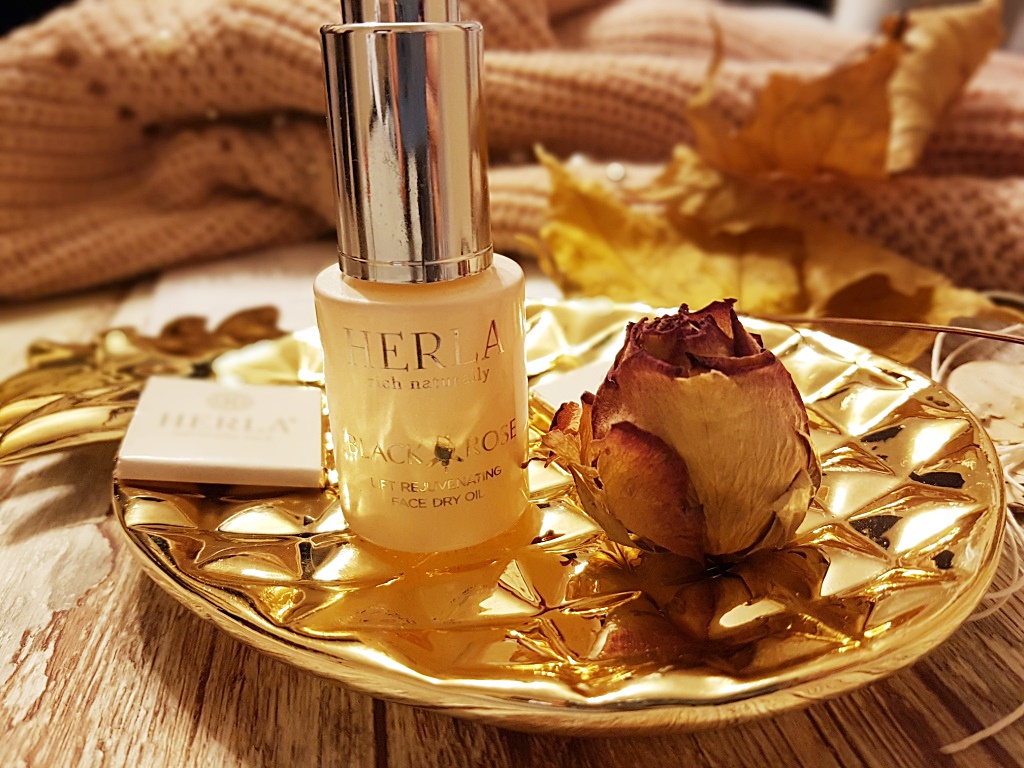 Herla is a new brand in the premium cosmetics market, distinguished by luxurious design, rich natural ingredients and the safety of applied formulas, with no harmful additives. It is a socially responsible brand that makes the best efforts to ensure that natural resources used in the production of cosmetics are provided by local businesses. Women working at the farm are covered by support and care, prepayments are applied even before production commences, and women can negotiate prices with the company. Perhaps it seems to you that this is irrelevant, but believe me, in countries as poor as Ghana and its poorest, northern part, such social activities are gold, and personally, I would like as many companies as possible to conduct Fair Trade policies.
In addition, cosmetics offer a minimum of 95% natural active ingredients , without parabens, which, coupled with advanced technology and pro-ecological activities, gives incredibly interesting products reflecting a holistic approach to life.
Herla is a daily beauty treatment for the face and body, but also for professional SPA treatments , so each one of us will feel beautiful. We have 3 cosmetic lines available:
Black Rose - focuses on anti-wrinkle and lifting action;
Gold Supreme - is responsible for balancing skin tone and smoothing wrinkles;
Infinite White - reduces pigmentation and uneven pigmentation.
Today I would like to introduce you to Herla Black Rose Dry Rose, containing the formula of 3 roses: black rose, wild rose and Damascus rose , which makes it incredibly sensual, floral and sensual. Same bottle of essential oil is very tasteful and elegant, can compete with expensive foreign brands, and remember that it is a cosmetic of our native brand. The pipette is the most hygienic and precise applicator.A glass bottle, a minimalist design and a light formula of essential oil, make the cosmetics beautifully presented and will surely attract the attention of many women. The inscriptions do not wear out, the bottle is made of thick glass, silver finishes even more emphasize the unique nature of the oil.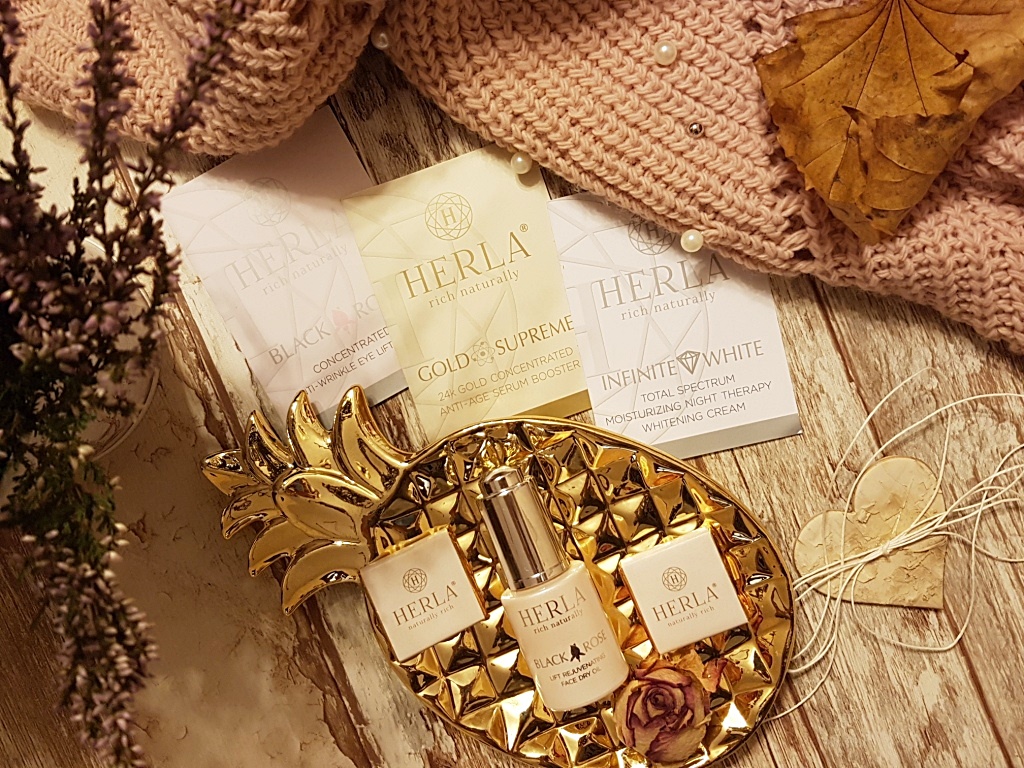 HERLA's laboratory developed a lightweight, non-greasy facial oil that nourishes and nourishes the skin. Contained in the product formula 3 roses: black rose, wild rose and Damascus rose, prevent the process of premature aging of the skin. Oil is a safe alternative to invasive aesthetic medicine, thanks to the patented Linefll ™ molecule. It perfectly fills the wrinkles and dents of the skin, and also increases the volume of the mouth, resulting in a rejuvenated and relaxed face. Argan oil, apple seed oil and acai berry intensively moisturize and regenerate the skin.
Action:
Complete complexion of wrinkles and skin creases thanks to the revolutionary Linefll ™ wrinkle filler "All-in-One".

• Gentle filling and volume increase, thanks to the revolutionary Linefill ™.

• The effect of healthy, nourished and relaxed skin.

• Does not leave greasy film on the skin.
Active ingredients:
Black Rose Extract
-
Black Baccarata Black Rose was bred in 2000 by French growers. Black rose extract acts as a powerful antioxidant, has properties that alleviate inflammation and irritation, and neutralize the action of free radicals. It works toning, astringent and rejuvenating.
Linefill tm
-
Vegetable active substance based on sesame seed isolated from sesame seeds. It stimulates the natural synthesis of subcutaneous fat, triggering the effect of the so-called.lipo fi lling of wrinkles - reduces the amount and depth, improves micro-skin and moisturizes the skin and reduces it redness.
Argan Oil
-
Contains fatty acids that stimulate intracellular oxygenation and vitamin E, which is one of the most powerful natural antioxidants in the fight against free radicals.Slows down the skin aging process by providing it with the necessary hydration. It regenerates on the epidermis, protects it from drying, soothes irritations, revitalizes and smoothes the skin. Oil is an excellent barrier against negative externalities. Perfect for mature and mature skin.
Wild Rose Oil
- The
seeds obtained from cold spring stems harvested from seed pods of ripe wild rose berries. It is a rich source of vitamins A, C, E and B vitamins, as well as carotenoids, fl avonoids, tannins and Essential Fatty Acids. It soothes irritations and regenerates the skin.It has the properties of smoothing wrinkles and reducing shallow scars and stretch marks.Ideal for sensitive, dry, mature and prone skin.
Acai berry
oil
-
Cold pressed acai fruit oil. Rich in fi steroids, vitamins, Omega 3-6-9. Due to its high antioxidant content it has antioxidant and anti-aging properties. It regenerates, smoothes, moisturizes, smoothes out the color, strengthens the blood vessels.
Apricot seed oil
-
Contains high levels of linoleic acid (63%) and oleic acid (39%). Rich in Essential Unsaturated Fatty Acids (EFAs) and in vitamins and minerals, including phosphorus, potassium, magnesium, calcium and iron, which help restore protective functions, alleviate inflammation and improve skin condition.
Damascus Rose Oil
-
It is one of the most valuable and most expensive essential oils in the world. Harvested from flowers of Damascus roses grown in Bulgaria (1 kg of oil is obtained from five tons of flowers). It regenerates the skin and is rejuvenating, its properties are used in the treatment of acne lesions, especially rosacea.
In my care I dealt with many facial oils, and whether they were traditionally greasy or dry, I always used them only overnight. In the case of Herla oil, the situation is different, thanks to its non-greasy formula and amazing lightness, the oil can be successfully used in the morning for make-up, not only moisturizes the skin but protects it from drying out and the adverse environmental factors. The lack of greasy film on the skin and the rapid absorption of the skin make it a quick and pleasant skin care , and the use of the "over" effect of the applied cosmetics.
There is a belief that people with oily skin / mixed complexion or at all with various types of imperfections should not even resort to oil. Nothing more wrong. Washing your face to a smaller or greater extent, we dry it, by losing its sebum, or its protective layer. The skin is dull for a while, but to protect against external factors begins to overproduce sebum, which results in more blackheads, deep acne and aesthetic shine. If you think that traditional oils are too greasy for you, just go for that dry oil, ensure long-lasting hydration but without greasy film and face light.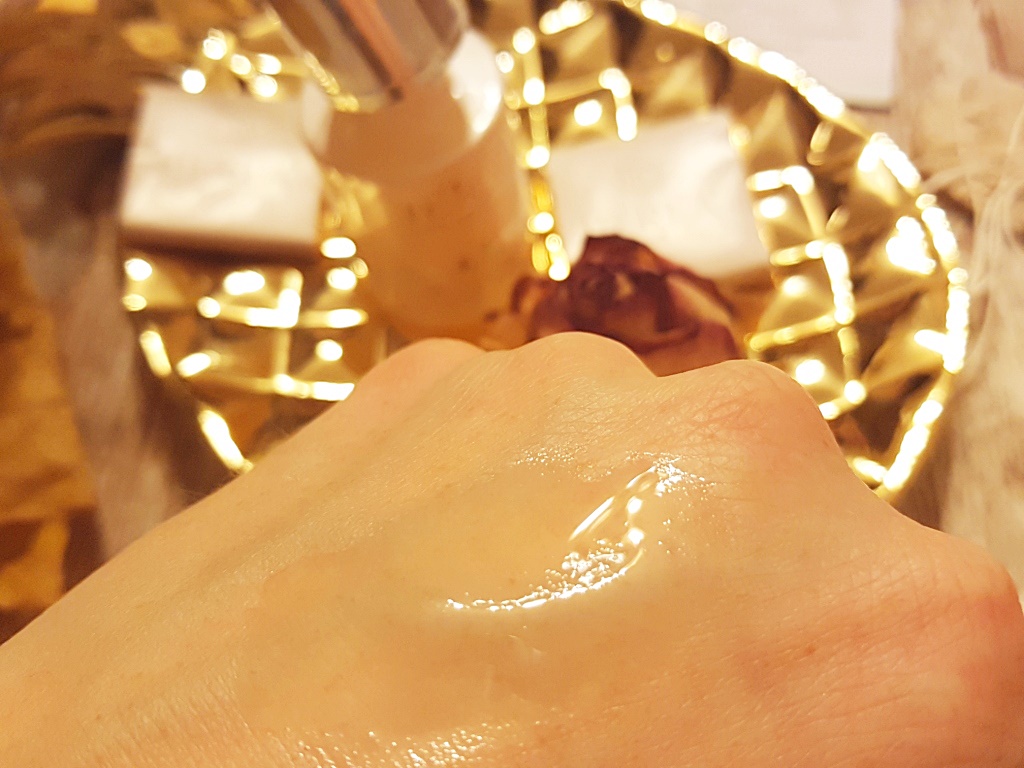 Skin just after oil application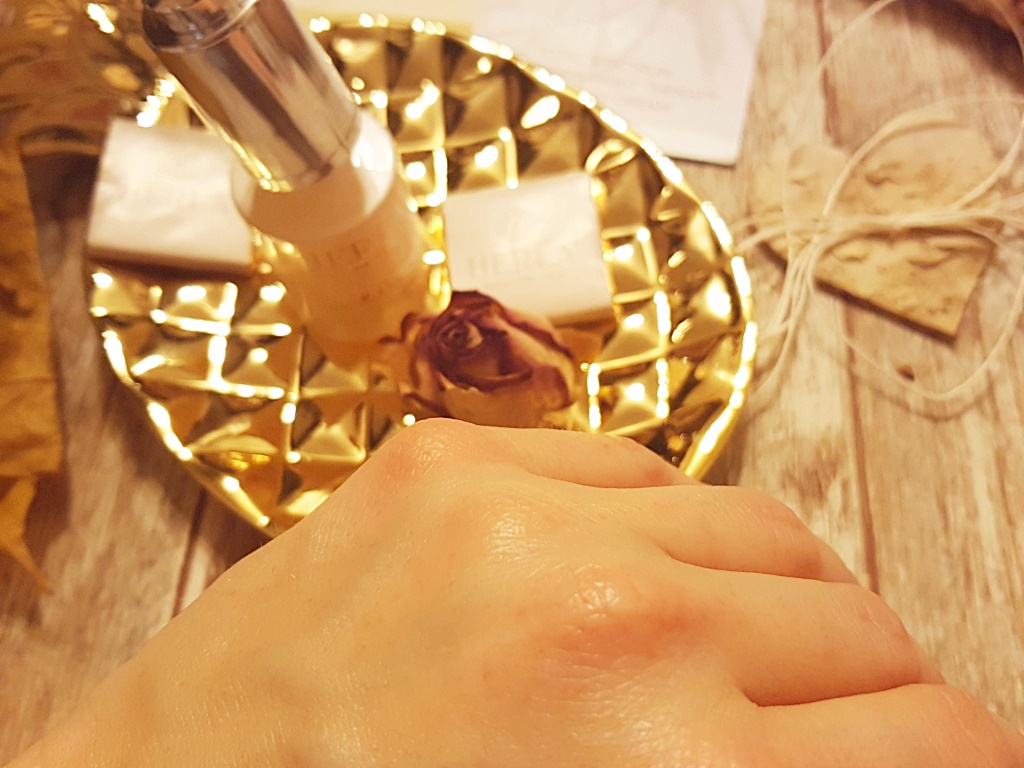 Skin after oil massage
Herla Oil surprised me (except the beautiful rose scent) with its great effect, which was visible after several applications, especially in the sphere of moisturizing, nourishing and soothing minor irritations. The unique formula of the oil makes it very easy for me to use it in the morning, instead of the cream or makeup base, I use this natural essential oil, which ensures perfect makeup, prolongs its shelf life and completely eliminates the appearance of dry skin during the day. The skin is gently shiny for a few minutes after application, but the applied primer and the final powder suppress this effect.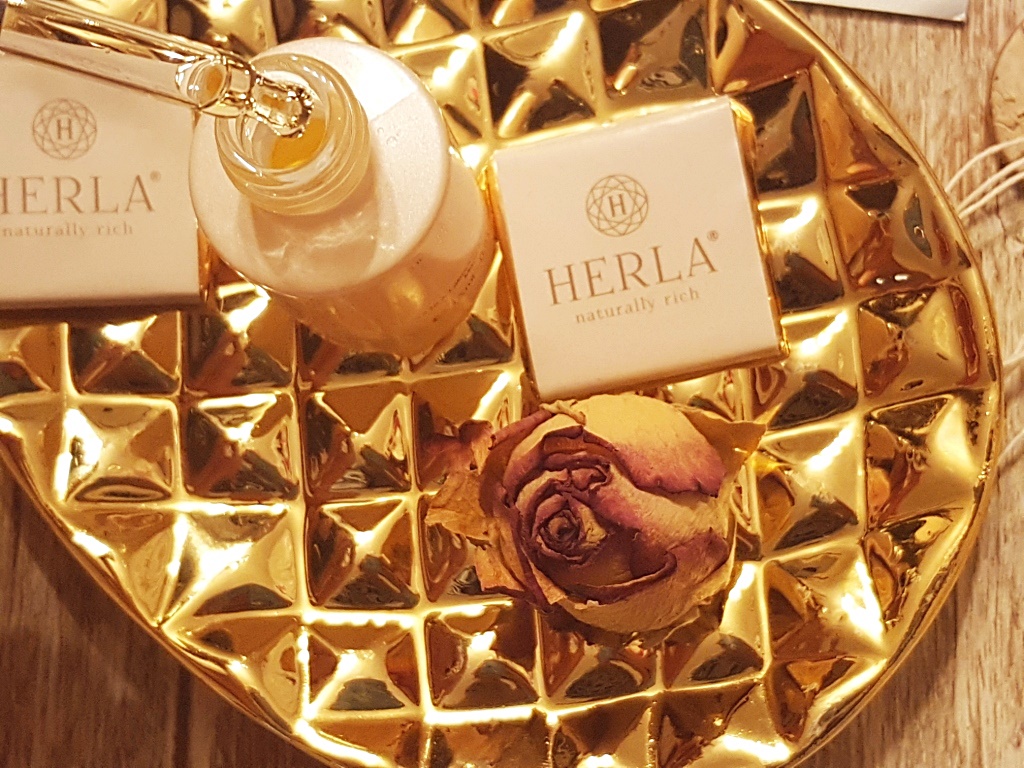 Night care oil replaces serum and cream, but I do not use it every day, but only 2-3 times a week. Skin after applying a small amount of essential oil is beautifully illuminated and radiant, minimal fat film disappears, and remains pleasantly smooth and soft to the touch skin. Positively surprised me the condition of the complexion in the morning, because it still feels the remnants of oil applied in the evening, which makes it very easy for me to further care. The foundation works much better when my complexion is deeply hydrated, and minor imperfections are somehow less obvious.
Interestingly, there is no way that the oil in any way obstructs the pores or greases the skin. No paraben addition guarantees that the cosmetic will not deteriorate the condition of the skin. Even so, despite the dry formula, the cosmetics can be applied on both wet and dry face, but also can add a touch to your favorite cream to strengthen the rejuvenating effect.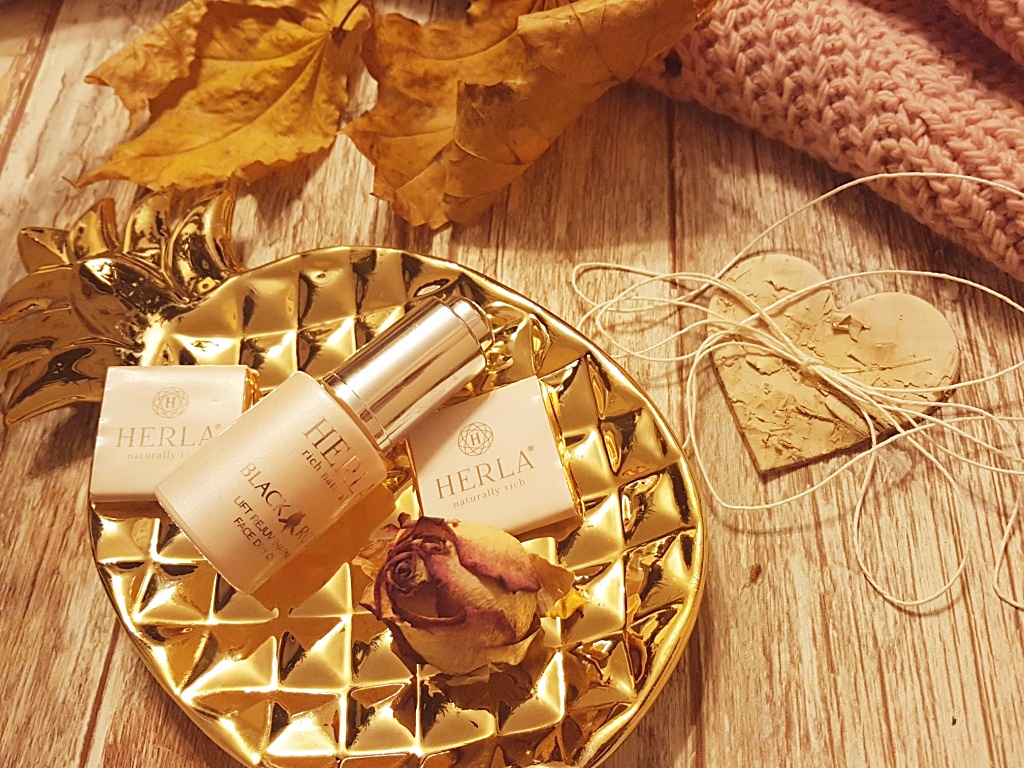 Regular use of essential oil (I have been over a month) has clearly improved the condition of my complexion, in the sense that it is very good and long-lasting moisturized, silky soft to the touch , which also translates to the use of color cosmetics. The foundation is well spread, as if I used silicone base, and the complexion is beautifully illuminated and full of glow. Dry oil is a great alternative for people who do not like greasy formulas and avoid oils in general.Very quickly absorbed and does not leave a fat, uncomfortable film on the skin, after which the skin very ugly shine. The richness of the three types of roses makes the minor irritations more quickly heal, and the skin gains a uniform color. Besides clearing and moisturizing the epidermis, it is seen that it is more elastic and tighter. I hope that in the long run I will recommend a small, cracked vagina in the nose. Incredibly high oil yield makes me happy to be accompanied by the whole winter.
Have you heard of Herli cosmetics? How do you like dry lifting oil? Do you use dry oils or do you choose more oily formulas?